By Douglas Sams – Editor-in-chief, Atlanta Business Chronicle
Good jobs. New restaurants and coffee shops.
It's a place where people grab breakfast sandwiches on their walk to work or ride bikes on tree-covered pathways. It's also 50 miles from bustling scenes in West Midtown or along the Atlanta BeltLine.
The Georgia city with the fastest-growing rents for one-bedroom apartments over the past year is Gainesville, up 24%, according to new data released by the listings website Zumper.
Gainesville units are renting for $1,560.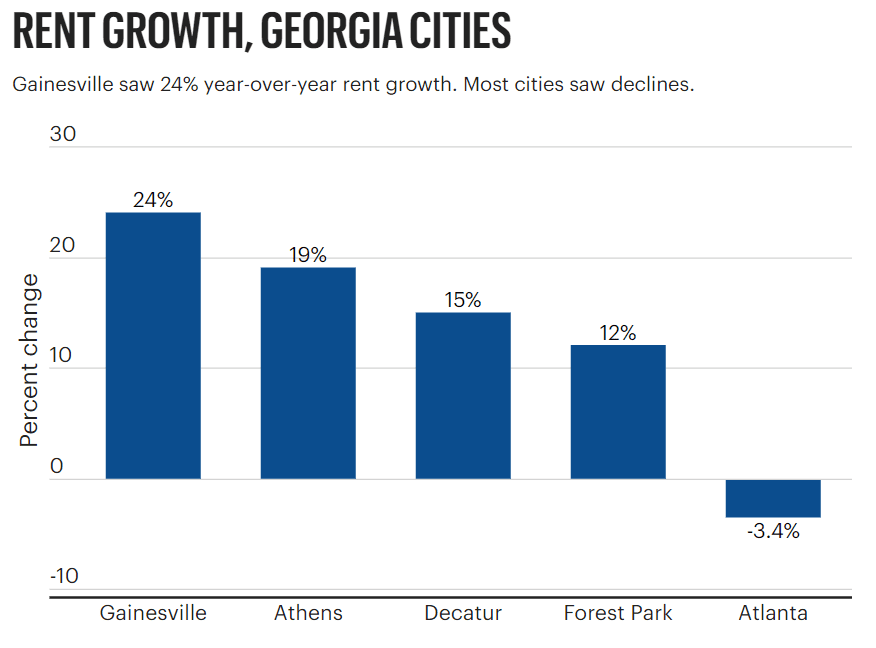 Elsewhere, rent growth stalls
The next closest city was Athens, where one-bedroom rents are 19% higher. Inside the Atlanta Perimeter, where much of the new apartment development has centered in urban enclaves, only Decatur saw positive rent growth, at 15%.
Most local cities reported year-over-year declines including Atlanta, where rents have fallen 3.4%, according to Zumper.
More jobs, more housing
Job growth has surged in rural Georgia communities, largely stemming from funding from the Inflation Reduction Act and the automotive manufacturing sector moving electric vehicle production South.
For years, Gainesville's big industry has been chicken processing, but its health care system has emerged as the economic development driver in this city of 45,000 along the shores of Lake Lanier. Northeast Georgia Health System's overall employment has surged well past 9,000 jobs, serving as a catalyst for a downtown renaissance.
Health care jobs are driving the biggest apartment boom in the city's history, much of it around the downtown square.
Full article: https://www.bizjournals.com/atlanta/news/2023/10/11/urban-metro-atlanta-rent-growth.html